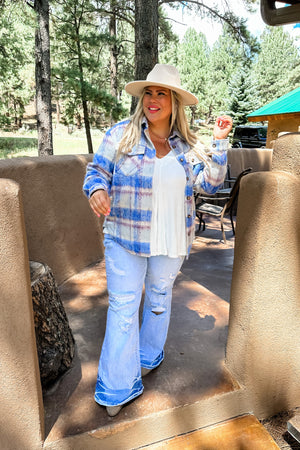 Shiloh Distressed Flare Jeans
These are my new favorite!! Stretchy, cute and soo fun! 
PREPARE TO FALL IN LOVE!  The stretch is amazing (but wont stretch out to baggy!) Keeps their form just right!   Made with premium quality denim!
The flared-leg fit provides a flattering shape, while the distressed detailing adds a fun, fashion-forward touch. Features a darker distressed wash at hem.
FIT:  Very Stretchy, Flare Leg Style with a High Rise Waist. 
*****DISTRESSING WILL VARY! These are hand distressed so while  distressing will be "similar" per piece, they likely will not be identical in wash/color and distress******
 ****** WHEN COMPARING TO JB - DO NOT SIZE DOWN- WE SUGGEST STAY TTS AND FOLLOWING THE SIZE CHART PROVIDED ******
Model is 5'6 size 16/18 wearing a 2x
FIT: High rise distressed, wide leg, very stretchy jean
FABRIC: 95% COTTON 3.5% RAYON 1.5% SPAN
INSEAM: 32"
SIZE:
1-3-5-7-9-11-13-15
PLUS:
1X: 16/18
2X: 18/20
3X: 22